VitalFox supports Ordinacia software

VitalFox service supports another veterinary management software Ordinacia. Ordinacia is non-commercial custom tailored veterinary software and it operates with MS Access database. In our portfolio of supported veterinary softwares has been added two versions of Ordinacia software – newer Ordinacia and older Ordinacia lite.
If you are using Ordinacia veterinary software please download proper VitalFox version from your administration area according to your Ordinacia version. VitalFox OR works great with newer version of Ordinacia and VitalFox OR lite works great with older Ordinacia version. If you need assistance please contact us and we advise you the right version. (You can find pictures of Ordinacia software bellow.)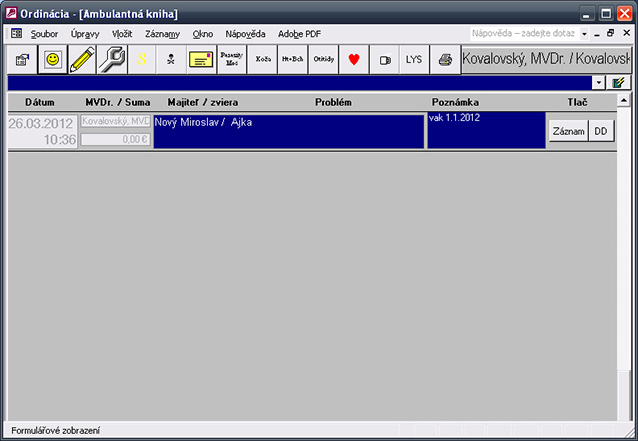 Newer Ordinacia version works together with VitalFox OR.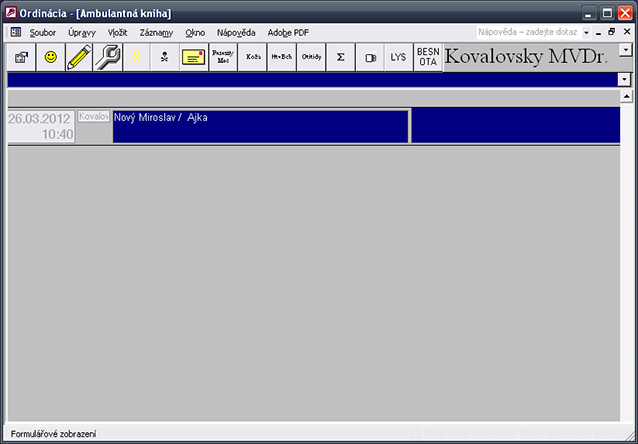 Older Ordinacia version works together with VitalFox OR lite.
You can use these tags in your patient's tab in field Poznámka (newer Ordinacie version - VitalFox OR) or in PM (older Ordinacia version - VitalFox OR lite):
vak 1.1.2012   /next vaccination date/
revak 1.1.2012   /next short-term re-vaccination date, e.g. primary vaccination/
obj 1.1.2012 12:15 Abcdef  /for scheduled appointments, you can use text behind time as a notice – it will be automatically inserted into message/
odc 1.1.2012   /next deworming date/
VitalFox is able to automatically detect dates such as 1.1.2012 as well as with leading zeros 01.01.2012. It's up to you which date's form will you use.
If something went wrong and animal died simply add + (plus) sign behind his name and we won't send messages for this patient.
As you can see VitalFox marketing and reminder service can be tailored for every veterinary management software, for commercial and non-commercial use as well. Custom tailoring is our standard feature. Do you have custom tailored veterinary practice management software?
CEO at aria33, s.r.o., entrepreneur, veterinary doctor, VitalFox author and founder; since 2001 is active in online technologies, design & web development, veterinary marketing enthusiast (and not only veterinary...), enjoys business and team leading. He shares knowledge and experiences.
Do you need to
contact Filip Kovalovsky
? Do you want
veterinary management consultation
?
Some ideas? Leave a comment!