Personalize your SMS and long SMS up to 459 characters
What about new invention in our service? That was a question I asked myself. It would be great if you – vets and doctors could use name of their client and pets in messages so reminders would be more personal. And wohooo! It is here! Former impersonal texts are suddenly more personal. You can say "Hello, Mr. Hugh Grant" or "your pet Ciara". Nice, isn't it? When your client see their name and name of his pet somewhere in messages which are by the way essential marketing strategies in these days, they feel a sense of uniqueness. So we have implemented this personalization feature to our SMS and emails for all our customers. You can boost your public relations at higher level with this nice feature.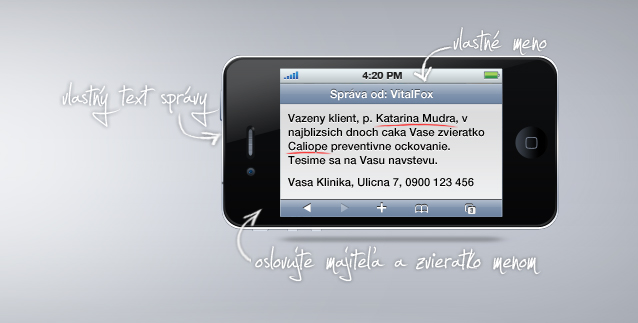 Now you can use owner's name and name of his pet in your texts. Everything is fully automatic so you don't need to manually insert their names again and again. Just setup it once in your account and you are done. :-) Simply put personalization elements in your own texts like this @name and @pet. @name inserts your client's name and @pet is used for name of his pet. You can put these ersonalization tags everywhere in your own message and then activate "SMS Personalization" in your settings. Done! VitalFox will automatically detect these elements and pick up and insert right names in right positions.
Our main idea and main idea of VitalFox service is that you can manage every message, texts, names, your name (sender's name), use your own phone number or even your own name in From field of SMS. You can setup daytime for sending messages as well.
Our customer asked for longer SMS than standard 160 characters. It is important to used more characters when you want to put more information in your texts. Good idea! So we decided to allow more than 160 chars in your SMS. Use up to 459 characters now! It is up to 3 SMS in one long SMS. This improvement in veterinary reminders, appointments, surgery terms and all other messages allows you to include more text and more information for your client. We advice to simply put additional information for example about special events in these days in your hospital or practice. Spice up your texts and take all advantages.
VitalFox is more complex and simple service ever. (We think so) Take advantage in your hands and boost up your PR with VitalFox and try it today. The truth is, as our customers said: "Our clients and pet owners love this service."
5th, November 2011 – Check new great features in E-mails with email personalization included in our packages. And special surprise for you – our customers – get up to 1000 FREE emails every month for FREE.
CEO at aria33, s.r.o., entrepreneur, veterinary doctor, VitalFox author and founder; since 2001 is active in online technologies, design & web development, veterinary marketing enthusiast (and not only veterinary...), enjoys business and team leading. He shares knowledge and experiences.
Do you need to
contact Filip Kovalovsky
? Do you want
veterinary management consultation
?
Some ideas? Leave a comment!